Capcom did it again. After the tremendously successful Monster Hunter World, which brought a heap of new players into the franchise, with Monster Hunter Rise they solidified Monster Hunter on the Switch. Now, almost a year later, the PC now gets a taste of what Nintendo portable owners enjoyed so much in one of 2021's best games, this time in mouth-watering HD.
Monster Hunter Rise is indeed the very best that Monster Hunter has to offer thanks to the many improvements to gameplay that it made based on the foundation left by Monster Hunter World's incredible expansion, Iceborne. 
The first, the wirebug, is one of if not the most useful tool in your arsenal as it brings you close into the fray giving you a never before seen way to move about Rise's seamless environments. Then comes the palamute, a new addition to your team that not only acts as a third party member when playing solo, but also as a very versatile mount.
Rise also brought to the table a very solid multiplayer game that's probably one of the series' easiest to get into and up to speed. Now quests are split into two hubs and you have to advance through both in order to be able to face stronger monsters.
The multiplayer lobby is by far the one you'll spend the most time with given that in online Monster Hunter Rise is a ton of fun – but don't get me wrong, it's also a great time solo, but I've yet to see the sheer shenanigans of random hunters be matched when playing by myself with the AI pets, let me tell you.
Not all are roses with the new Monster Hunter, though. The new Rampage mechanic which ties into the game's story of an all-out attack by the biggest and baddest monsters out on the peaceful Kamura village is probably one of the most annoying parts I've seen in a Monster Hunter game since Tri on Wii. 
It's just not a whole lot of fun running around and setting up tower defense-like structures while trying to hold off wave after wave of monsters trying to break through the town's gates. Then again, some people might enjoy doing it with friends, but I was just glad missions in this category were not a mandatory part of the hunter rank progression.
The Switch version of Monster Hunter Rise already looked as good as it could on that system and honestly I was happy with what I had there, and in comparison this new version is obviously a whole lot sharper and smoother when it comes to frames. Even on a modest computer by today's standards, my 6 year old machine is able to run Rise very capably, with almost all effects turned to full.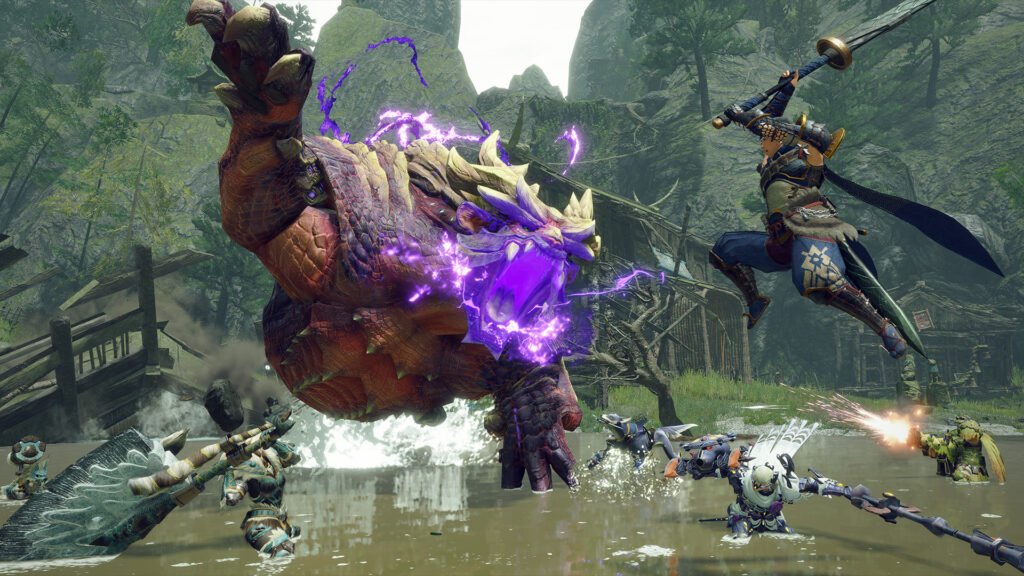 It's worth noting that this port supports HDR and ultrawide displays too; the former really makes the already beautiful visuals of the game pop even further, giving another level of depth to the lighting model. Fire effects are noticeably more intense in this mode, so don't get caught with your pants down when facing Ratheon's heat breath while playing with HDR on.
Following Capcom's track record of excellent PC ports over the last few years, Monster Hunter Rise is a great pickup if you don't own a Switch or if you're looking for an upgrade. Hopefully they'll follow through with updates day-to- and day like they eventually did with the previous port of Monster Hunter World on PC. Given that I've already put over forty hours on Nintendo's hybrid wonder version of Rise, I'm a little reluctant starting over on PC, but if time wasn't an issue, the improvements here are more than an incentive for me to do so.